Hi and waving! Guru Louise here!
How was everyone's Christmas? And more importantly, how is everyone surviving school vacation week?! Mine are both awesome except for the part where my 4 year-old came home from school with pneumonia and has been a feverish, hacking mess for the past 10 days. Yeah! But somehow she managed to perk up for gifts and Santa...funny how that works...
I wanted to take a moment before we dive back into our regular ranting gibberish to acknowledge some of the awesome work that happened during our Give It Up extravaganza earlier this month. You all know we did our big gift card exchange where we matched over 1,800 families up. But we also had some superstars all over the continent running various Give It Up volunteer events to give back to their own communities.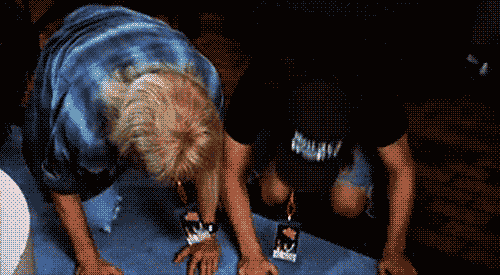 Lydia, Kate, and I are so goshdarn proud of these mommas and we want you all to know how incrediballs they are! So read on and join us in giving them the standing slow clap they deserve.
Or, if you prefer, you can do a good old fashioned Wayne and Garth "We're not worthy" tribute.
Massachusetts:
On December 16th two superstar readers named Laura and Barbara got together with her friends and made gift baskets for "My Father's House", a home for pregnant and parenting teens.
In each basket, they collected donated items such as laundry supplies, toiletries, and Walmart gift cards.
The party was great! Much chocolate was consumed, but even better was we were able to make a huge box of goodies for each room in the house. Many generous mommas contributed, even if they couldn't be there that day. We had one of the workers from the house come and explain the program and how they work with and care for the girls. It sounds like there were some folks who want to get involved with them too, which is fantastic! They had a girl move in Monday with her newborn who was rescued from sex trafficking, so that is pretty cool.
Barbara and I decided we might do another gift card party in another few months since people were so generous, and they won't have Christmas bills then!"
Vancouver, Canada:
A superstar reader named Kirstie just outside Vancouver, Canada put together toiletry kits for ALL the shelters serving women and families in the lower mainland
(aka Greater Vancouver). People, that means she made bags for seven shelters, a total of
235 kits (210 adult, 25 kid, 4 baby)
. Amazing!

Kirstie reported: "We put together

toiletry kits

, putting each one in a made-by-me or made-by-people-at-the-party drawstring bag (gift bags are just one more thing to throw out if you're homeless, but a sturdy drawstring bag can keep dirty stuff away from clean stuff in your one-and-only bag). Each bag contained shampoo, conditioner, soap, comb, toothbrush, toothpaste, lip balm and a little, encouraging note with child-made 'art' on the flip side. Kid sets had no-tear shampoo/conditioner, non-mint toothpaste, kid-sized toothbrush, small comb and a small bath toy. Baby sets contained head-to-toe wash, a washcloth, a bath mitt, and a large tub of rash ointment.
We also gathered and donated a bunch of warm clothing, bedding, jammies, new and used toys, and craft supplies. All donations were gratefully received."
Pennsylvania:
A superstar reader named Sybil in Northeastern PA was inspired to use her own business as a headquarters for a Give It Up event. (She runs a
theater
where you can eat dinner and drink beer while watching a movie. Um, can we all go there please?!)
She asked folks in her community to donate items for gift bags to benefit a local
domestic violence shelter
. Also, of special note is that she lives in the town where the Dial Corporation manufactures its products and they agreed to donate supplies for 50 gift bags!
Sybil reported: "
At the end of the day, I delivered 113 gift bags filled with items ranging from 100oz bottles of Purex (thanks Dial Corp.!), shampoo, razors, feminine products, and
so much more
! We also did special bags for the kids at the shelter and included a small toy with the other essentials kids need, such as tear-free shampoo, kids' toothpaste, and kids' toothbrushes.
Truly, I find it hard to wrap my brain around how a couple of determined mommies were able to help so many people!! I'm grateful for the opportunity and am already planning how to make next year's event even bigger!
Roanoke, Virginia
A superstar reader in Roanoke named
Katie
gathered donated gifts for residents at a
local domestic violence shelter
. She had a drop-off point for donations at her local high school and then had a party at her house to wrap the gifts and share holiday cheer.
Katie reported: "I

'm basking in the glow of friends and family coming together to wrap gifts for the women in our local battered women's shelter. I've attached a picture so you'll see what a success it was. My favorite part was when women began sharing ideas for how to make it an even bigger event next year.
Thank you so much for all you, Lydia, and Kate have done for women across the country, and especially for my kids who are learning about how fun and fulfilling giving can be."

Boston, Massachusetts
This was the event that Guru Louise set up just outside Boston. We collected gently used baby clothes, toys, books and care items for the organization
Room to Grow
that serves moms and babies living in poverty in Boston. The folks who showed up (including five super helpful kids and a volunteer from
Sweet Relish
) at the two hour donation event stayed and helped us sort all the donations into various categories, saving the Room to Grow staff some time on their end.
By the end of the event, we had a great haul for all those moms and babies who so desperately need a snow suit, a good book, or a toy for under the tree.
Charlotte, North Carolina
Our friends at Lisa and Ashley from the blog The Dose of Reality got together with our sponsor Sweet Relish to benefit the Matthews Help Center.
Here's a snippet from The Dose's post on their event:
The Matthews HELP Center
literally received an entire moving truck full of donations thanks to your generosity. You awesome readers (who are now totally friends, by the way!) put our fabulous team of Sweet Relish helpers to work by bringing bags of coats, clothes, toys, and food to help families in need this holiday season.
Here's the Sweet Relish team!
We are sincerely very, VERY grateful to Sweet Relish and also to The Dose of Reality for working with us.
Thank you.

Fairfax, Virginia
Then of course, there was the event that raised a metric poop ton of donations and funds for
Final Salute.
Kate and Lydia were there and both said it was awesome. You can see lots of pictures from the party in our Facebook album
right here
.
It was amazing to see so many old and new friends, to get to meet people whose names we've read on comments or seen on Facebook, and to see how many kids were there to share in the experience with their families. It was kind of a goat rodeo, but it was really wonderful at the same time. And guess what - Kate was even seen hugging several different people. And at one point, we all got really choked up when Denise Gordon spoke about all the service people who may never make it home, and how those lucky enough to make it often find re-adjusting to civilian life so very difficult.
sniffle...
We also want to give it up for some of our friends who helped us Give It Up:
Thank you so much for helping us pull off an incredible holiday project. Knowing we were helping folks who needed it was its own reward, but here's hoping it bought us all a couple of good karma points for 2013.
Happy New Years, hookers. Let's hope its a good one.
xo,
Lydia, Guru, & Kate
(c)Herding Turtles, Inc. 2009 - 2012