Food was easy today - SO EASY. I was barely even hungry. I had to force myself to eat because I kept forgetting. Normally, if I were to say something like that, it would be because I was pretty close to dying of something like consumption. Also, my energy was great all day.
Some nice people asked me for the recipe for the shrimp salad that was so delicious that it made me eat all of it one day even though that's gross and glutenous and very, very bad. Shrimp salad is powerful stuff. I copied the recipe from my friend E who made some and gave me a bite a couple of weeks ago.
1 lb of steamed shrimp chopped into big chunks (I bought mine at Costco)
2-3 Tbspns of homemade paleo mayo
Add some chopped up veggies like:
celery
onion
peppers
avocado
cilantro or parsely
squirt of lemon or lime juice
salt & pepper
Then you mix it up and try not to eat it all in one sitting.
Here's what I ate today:
Coffee:
2 cups with coconut cream
Breakfast:
Leftover enchilada bake w salsa
Lunch:
Leftover red coconut curry chicken
Dinner:
Bolognese sauce over zuchini noodles
Snack:
I might have one later.
A little note about dinner - I made spaghetti for my kids AND GARLIC BREAD and I didn't even want to eat either of them. Isn't that amazing?? So here's my gif of the day. Watch me brush my shoulders off like a champion: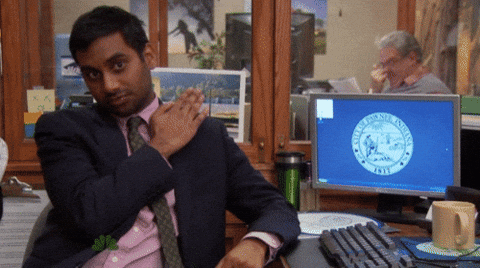 (c) Mommyland Blogs 2013-2014
Check us out on Facebook, Twitter, Instagram & Pinterest. Better yet - subscribe! Mostly because Facebook is now so dumb that our updates don't even show up in our own feed anymore.